Service Awards were given out at the AYSO Region 345 Annual Volunteer Party on November 12, 2016. We would like to congratulate and express our deepest gratitude to the following volunteers for their effort and time they have contributed in volunteering at AYSO Region 345 to make our program so outstanding!!
5 Year Award 10 Year Award
Matthew Anselmo Sr. Steve Garner
Neville Bermudez Veronica Murphy
Raul Castillo John Murphy
Neal Jain
Walter Salmeron
Geoffrey Wiedrich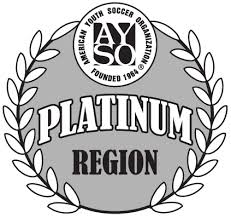 AYSO Region 345 Receives AYSO Platinum for Exclellence
Okeeheelee Park Region 345 has been honored with the AYSO Platinum Award for our Fall/Spring 2015-2016 Season. AYSO Region 345 has participated in the AYSO Regional Assessment Program since 1994 and this is the 17th time that Region 345 has won this Award for Excellence! Platinum Regions represent the best of the best that AYSO has to offer. These Regions model AYSO's philosophies and commitment to providing the best family friendly youth soccer experiences for all players and parent volunteers throughout their immediate communities and beyond. They nurture the generous spirit of their participants and devote extra effort to providing assistance to many worthy charitable causes.
Congratulations to every volunteer who tirelessly works to make Okeeheelee Park Region 345 a fantastic place for our children to play soccer!
AYSO 2016 National Games July 6 to July 10, 2016 Wellington Polo Grounds
Okeeheelee Teams made an impressive showing at the AYSO 2016 National Games. 7 teams out of 14 made it to the semi finals. We are proud of each of our 14 teams and the effort they made in the tournament, while make new friends at soccerfest, enjoying an evening at the Rapids, playing 5 games in sweltering heat, and overall having a great time!!
1st Place U14 Boys Coach Kenneth Carr
2nd Place U10 Boys Coach Paul Forberger 2nd Place U16 Boys Coach Michael Moise
3rd Place U16 Girls Coach Bert Winkjler
4th Place U14 Girls Coach Michael James
5th Place U19 Boys Coach Russell Mohammed
6th Place U12 Girls Coach Jennifer Hamel
AYSO Region 345 Wins 100 Soccer Balls from Continental Tire!
AYSO Region 345 was one of the top (10) ten AYSO regions with the most Safe Driving Pledges sponsored by Continental Tire. The region now will receive 100 soccer balls. Thank you to all that participated!