AYSO Region 345/Okeeheelee Park Fall 5 v 5 Soccer Tournament December 8 & December 9
Fun was had by all! 1st place teams were awarded medals and tshirts pronouncing them Champions of the 5 v 5 and 2nd place teams received medals. A special thanks to Douglas Rodas, John Rodriguez, and Nora Huspek in getting all the things ready for the 5 v 5 tournament. A big thanks to Wendy Smith (AYSO Section 14 Developer) for handling all the scorekeeping!! Thanks to the following referees who had to battle the heat but having fun with the players:
Michael Hartley Sr. (AYSO Section 14 Director, Michael Hartley Jr. (Key West Coach),Douglas Rodas, Michael Moise, Sean Cotter, Carlos Avalos, John Solek, Nate James, Mike James, Fred Mance, Gabby Rodriguez, Conor Devery, Raul Tomas-Andres, Danica Jean, Angel Avalos, Carlos Avalos Jr, and Ariel Riquelme-some had children playing, some just wanted to come out and have fun! Thank you to the 16U Girl State Team coached by Douglas Rodas, that helped to referee the games, shag balls, set up and shut down both days of the tournament. As an All-Volunteer organization, we are very appreciative of all the time and effort each of these teams did to make this tournament so successful! These wonderful volunteers made the day run smoothly!
Winners:
1st Place 10U Girls Coach Carlos Avalos 1st Place 10U Boys Coach Galo Arizaga-Killer Bees
2nd Place 10U Girls Coach James Looney 2nd Place 10U Boys Coach Coach Victor Salinas-Blue Lightening
1st Place 12U Girls Coach Rick Montes 1st Place 12U Boys Coach Willie Martinez-Red Knights
2nd Place 12U Girls Coach Raul Castillo 2nd Place 12U Boys Coach Kevin Rodriguez-Golden Ninjas
1st Place 14U Girls-Coach Carlos Solarzano-Eagles 1st Place 14U Boys Coach Willie Martinez-Bandits A
2nd Place 14U Girls-Coach Odir Umana 2nd Place 14U Boys Coach Fred Mance
1st Place 19U Girls-Coach Matt Watson 1370 W Boynton Cyclones 1st Place 19U Boys Ariel Riquelme
2nd Place 19U Girls-Coach Coach Barbar Karmazyn-Heat 2nd Place 19U Boys Kenneth Carr
AYSO Region 345/Okeeheelee Park Spring 5 v 5 Soccer Tournament April 13 and 14
Fun was had by all! 1st place teams were awarded medals and tshirts pronouncing them Champions of the 5 v 5 and 2nd place teams received medals. A special thanks to Douglas Rodas, John Rodriguez, and Nora Huspek in getting all the thingsready for the 5 v 5 tournament. Thanks to the following referees who had to battle the heat but having fun with the players: Douglas Rodas, John Solek, Russell Mohammed, Anthony Cerreta, Michael Moise, Sebastian Perez, and Ariel Riquelme-some had children playing, some just wanted to come out and have fun! Thank you to the 19U Girl State team coached by Alex Guanarita and the 16U Girl State Team coached by Douglas Rodas, that helped to referee the games, shag balls, set up and shut down both days of the tournament. As an All-Volunteer organization, we are very appreciative of all the time and effort each of these teams did to make this tournament so successful! These wonderful volunteers made the day run smoothly! Winners:
1st Place 10U Boys Coach Galo Arizaga-Hornets
2nd Place 10U Boys Coach Fred Mance-Silver Bullets
1st Place 12U Girls Coach Rick Montes 1st Place 12U Boys Coach Willie Martinez
2nd Place 12U Girls Coach David Hernande-Pink Warriors 2nd Place 12U Boys Coach Carlos Avalos-Strikers
1st Place 14U Girls-Coach Frenchie Hilaire-Blue Fire 1st Place 14U Boys Coach Russell Mohammed-Predators 1
2nd Place 14U Girls-Coach Julio Santana 2nd Place 14U Boys Coach Russell Mohammed-Triggered
1st Place 19U Girls-Coach Douglas Rodas 1st Place 19U Boys Coach Victor Lopez
2nd Place 19U Girls-Coach Will Panton 2nd Place 19U Boys Kenneth Carr-Crypts Black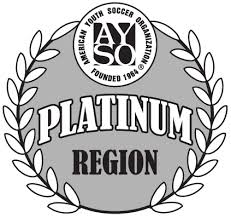 AYSO Region 345 Receives AYSO Platinum for Excellence
Okeeheelee Park Region 345 has been honored with the AYSO Platinum Award for our Fall/Spring 2017-2018 Season. AYSO Region 345 has participated in the AYSO Regional Assessment Program since 1994 and this is the 19th time that Region 345 has won this Award for Excellence! Platinum Regions represent the best of the best that AYSO has to offer. These Regions model AYSO's philosophies and commitment to providing the best family friendly youth soccer experiences for all players and parent volunteers throughout their immediate communities and beyond. They nurture the generous spirit of their participants and devote extra effort to providing assistance to many worthy charitable causes.
Congratulations to every volunteer who tirelessly works to make Okeeheelee Park Region 345 a fantastic place for our children to play soccer!
AYSO Region 345/Okeeheelee Park Spring 2020 Youth Referee Clinic
42 Teams which means 24 games every Saturday requiring 24 VOLUNTEER referees each week.
Free training will be given to all Referees to Referee with Water and Lunch Provided on Game Days
Youth Referee Clinic for 6U & 8U Games
Wednesday, February 12, 2020
6:00 pm-8:30 pm
Fast, easy, convenient way to get Community Service Hours.
Clinics are held at Okeeheelee Soccer Building free of cost.
Contact Natasha Rodriguez 6U & 8U 561-389-9589

This email address is being protected from spambots. You need JavaScript enabled to view it.
Looking for Community Service Hours?? Look No Further!!
AYSO Region 345/Okeeheelee Park Referee Training
(Receive community service hours for clinic, and 1 hour for every game that you referee!!)
We have 90 Teams in the 10U, 12U, 14U & 19U which means
45 games every Saturday requiring 45 VOLUNTEER Center referees each week
45 Games EVERY SATURDAY requiring 90 VOLUNTEER LINESMAN REFEREE EACH WEEK
Certification for 10U & 12U Games
Saturday, February 1, 2020
Okeeheelee Park AYSO Soccer Activity Building
7715 Forest Hill Blvd, W Palm Beach, Florida
Preregister at AYSOU (register to volunteer at ayso.bluesombrero.com/region345)
Contact person: Conor Devery at
This email address is being protected from spambots. You need JavaScript enabled to view it.