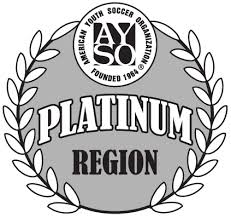 AYSO Region 345 Receives AYSO Platinum for Excellence
Okeeheelee Park Region 345 has been honored with the AYSO Platinum Award for our Fall/Spring 2018-2019 Season. AYSO Region 345 has participated in the AYSO Regional Assessment Program since 1994 and this is the 20th time that Region 345 has won this Award for Excellence! Platinum Regions represent the best of the best that AYSO has to offer. These Regions model AYSO's philosophies and commitment to providing the best family friendly youth soccer experiences for all players and parent volunteers throughout their immediate communities and beyond. They nurture the generous spirit of their participants and devote extra effort to providing assistance to many worthy charitable causes.
Congratulations to every volunteer who tirelessly works to make Okeeheelee Park Region 345 a fantastic place for our children to play soccer!