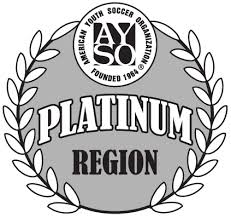 AYSO Region 345 Receives AYSO Platinum for Excellence
Okeeheelee Park Region 345 has been honored with the AYSO Platinum Award for our Fall/Spring 2018-2019 Season. AYSO Region 345 has participated in the AYSO Regional Assessment Program since 1994 and this is the 20th time that Region 345 has won this Award for Excellence! Platinum Regions represent the best of the best that AYSO has to offer. These Regions model AYSO's philosophies and commitment to providing the best family friendly youth soccer experiences for all players and parent volunteers throughout their immediate communities and beyond. They nurture the generous spirit of their participants and devote extra effort to providing assistance to many worthy charitable causes.
Congratulations to every volunteer who tirelessly works to make Okeeheelee Park Region 345 a fantastic place for our children to play soccer!
AYSO Region 345 Fall 2020 Team Managers Meetings
New Team Managers Meeting (No Exceptions) Thursday, August 27, 2020, Returning BoysTeam Managers Meeting Tuesday, September 1, 2020, and Returning Girls Team Manager Meeting, Wednesday, September 2, 2020, from 6:30 pm to 8:00 pm. Team Managers will receive their team picture packets, uniforms, water bottles, and handbooks. Banners will be available for purchase for $20.00 and Team Names will need to be turned.
Help Us, Help Others In Need
Saturday, October 3, 2020

8:30 am—4:30 pm
AYSO Region 345 is teaming with The Lord's Place to conduct a food drive to help homeless children, families and individuals in our community.
On Saturday, October 3, 2020 please bring any and all non-perishable, unexpired food items to the fields. AYSO Region 345 players will be collecting the food at a table near the concession stand from 8:30 am—4:30 pm. The Lord's Place will distribute the food to those in need.
Most requested items: ramen noodle soup, chips, cookies, candy, small bottles of juices, and crackers
Wishlist: toothbrushes, toothpaste, floss, hair brushes, shampoo, conditioner, soap, wash cloths, towels, deodorant, shaving cream, razors (men and women), pillows, pillowcases, sunscreen, bug spray, hats, etc.
We will also have a team competition. The team (all age groups are eligible) which brings in the most items will win a pizza party!