Dear AYSO Members,
As the number of Coronavirus cases identified has been growing, we wanted to give you some best practices, tips and resources to keep you updated and well.
updated 7-19-2020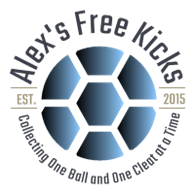 Donating One Ball & Cleat at a Time
At Alex's Free Kicks, our goal is to ensure that every child growing up at least has the opportunity to play sports and find their passion.
AYSO Region 345/Okeeheelee Park is working with Alex's Free Kicks and if you have any extra soccer balls, cleats or other soccer equipment that you are no longer using, please bring in to the AYSO Soccer Activity Building on October 10 (we will take the donations throughout the season). For more information, go to https://alexsfreekicks.com
A Special Thank You for all the Wonderful Volunteers who helped make the AYSO Region 345 December 2020 5 v 5 such a Wonderful Experience and a Great time for all the Players! Especially John and Natasha Rodriguez, Douglas Rodas, Nora Huspek,Mark and Jessica Ostlin, Melisa and Jim Cummins, and Fred and Michele Mance for coordinating, setting up, scoring, and shutdown. For all the wonderful referees who stepped up to cover games-Conor Devery, Douglas Rodas, Ariel Riquelme, Michael Moise, Erik Arsenault, Raul Castillo, Paul Picard, Frenchie Hilaire, Carlos Avalos, Fred Mance, Kenneth Carr, Chantell Bonilla, Michelle Puerta, Boris Alvarado, Frantz Guillaume, and John Rodriguez.
Tournament Results:
12U Girls 1st Place-Coach Christopher Miquel-Electric Storm 12U Girls 2nd Place-James Looney-Green Tigers
19U Girls 1st Place-Coach Douglas Rodas 19U Girls 2nd Place-Coach Jim Cummins
10U Boys 1st Place-Coach Christopher Miquel-Electric Storm 10U Boys 2nd Place-Coach Boris Alvarado
12U Boys 1st Place-Coach Fred Mance-Dominators 12U Boys 2nd Place-Coach Carlos Miquel
19U Boys 1st Place-Coach Frantz Guillaume 19U Boys 2nd Place-Coach Olsen Fenelus-Straight Fire
Congratulations to all the participants! 1st & 2nd Place teams received medals, and the 1st place teams also received Champions tshirts!
AYSO Region 345 5 v 5 & 3 v 3 Tournament
A special thank you to all the volunteers and teams that participated in the tournament December 7 & 8, 2019! As an All-Volunteer Organization, it is great to see all the wonderful people helping to make everything run smoothly! From Field Lining-Rolf Born, Steve Castro, Douglas Rodas, Frenchy Hilaire, Goal Moving-Jorge Ocampo, Douglas Rodas, Steve Castro, Field Set up-Nora Huspek, John Rodriguez, Natasha Rodriguez, Mark & Jessica Ostlin, Carlos Miquel, Fred & Michele Mance, Scorekeeping-Wendy Smith, Game & Referee Scheduling, 3 v 3 Overseeing-Mark & Jessica Ostlin, Team Registration-Rose Arsenault, Referees-Ariel Riquelme, Sean Cotter, Irvin Gomez, Anthony & Rick Cerreta, Eduardo Gonzalez, Michael Moise, Douglas Rodas, Nicholas, Matthew, & Soraya Leon, Michelle Puerta, John Solek, Michael Hartley, Raul Castillo, Sebastian Perez, Frenchy Hilaire, Gabby Rodriguez, Olsen Fenelus, Jorge Ocampo, Kenneth Carr, Cezar Caleap, Sebastian Morgan, Ball Shaggers-16U Girl State Team Coach Frenchy Hilaire, 19U Girl State Team Coach Douglas Rodas, Martin Broche, Mickaela Moise, and many more.
AYSO Region 345/Okeeheelee Park 5 v 5 & 3 v 3 December 7 & 8, 2019 Results
Read more: AYSO 5 v 5 Tournament Results December 7 (Boys) & December 8 (Girls)
AYSO REGION 345 2019 OPENING CEREMONIES BANNER WINNERS
We wish to thank all the dedicated volunteers who got all the background things (teams made, fields painted, nets put up, coaches recruited, registration, etc.) done to make it such a wonderful start to our season-Nora Huspek, Douglas Rodas, Kenneth Carr, Melisa & Jim Cummins, Rick Montes, Tasha Carrion, Rachel Forberger, Paul Scala, Rick, Heidi, & Anthony Cerreta, Natasha & John Rodriguez, Mike James, Carlos Avalos, Steve Castro, Frenchie Hilaire, Javier Lasso, Jason Villafane, Mark & Jessica Ostlin, John Solek, Veronica Murphy, Rolf Born, Erik & Jessica Arsenault, Fred, Michelle, Zachary & Randy Mance, Karmron Botelho, and many more! Thanks to our judges , Matilda Casas, AYSO Area I Director, Michael Hartley AYSO Section 14 Director, and Nancy Perez, Retired Palm Beach County Judge for giving of their time to judge our banners for Opening Ceremonies! A huge thank you to Jayden Jones for the singing of the National Anthem!
OVERALL LEAGUE WINNER- 12U Boys Marines, Coach Jorge Ocampo, Sponsor El Bodegon Supermercado
Read more: AYSO Region 345 2019 Opening Ceremonies Banner Winners