Help Us, Help Others In Need
Saturday, October 3, 2020

8:30 am—4:30 pm
AYSO Region 345 is teaming with The Lord's Place to conduct a food drive to help homeless children, families and individuals in our community.
On Saturday, October 3, 2020 please bring any and all non-perishable, unexpired food items to the fields. AYSO Region 345 players will be collecting the food at a table near the concession stand from 8:30 am—4:30 pm. The Lord's Place will distribute the food to those in need.
Most requested items: ramen noodle soup, chips, cookies, candy, small bottles of juices, and crackers
Wishlist: toothbrushes, toothpaste, floss, hair brushes, shampoo, conditioner, soap, wash cloths, towels, deodorant, shaving cream, razors (men and women), pillows, pillowcases, sunscreen, bug spray, hats, etc.
We will also have a team competition. The team (all age groups are eligible) which brings in the most items will win for each player a Kona Icee!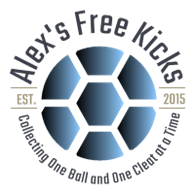 Donating One Ball & Cleat at a Time
At Alex's Free Kicks, our goal is to ensure that every child growing up at least has the opportunity to play sports and find their passion.
AYSO Region 345/Okeeheelee Park is working with Alex's Free Kicks and if you have any extra soccer balls, cleats or other soccer equipment that you are no longer using, please bring in to the AYSO Soccer Activity Building on October 3 (we will take the donations throughout the season). For more information, go to https://alexsfreekicks.com
Palm Beach County Return to Play Guidelines & AYSO Region 345 Covid-19 Rules for Fields
AYSO Region 345/Okeeheelee Park Fall 2020 Registration
Recreational Soccer Program for Boys & Girls Ages 4 to 18
(Age as of 12-31-2021)
Online Registration is available at ayso.bluesombrero.com/region345
Registration Cost: $105.00 per child
Includes basic uniform, accident insurance and trophy!
Season begins August 31, 2020 and runs through November 21, 2020
Spots Available as of September 23, 2020
6U Boys & Girls Coed (2015-2016 Birthdate) Closed
8U Boys (2013-2014 Birthdate) Closed 8U Girls (2013-2014 Birthdate) Closed
10U Boys (2011-2012 Birthdate) Closed 10U Girls (2011-2012 Birthdate) Closed
12U Boys (2009-2010 Birthdate) 10 openings 12U Girls (2009-2010 Birthdate) 10 openings
14U Boys (2007-2008 Birthdate) 13 openings 14U Girls (2007-2008 Birthdate) 33 openings
19U Boys (2002-2006 Birthdate) 7 openings 19U Girls (2002-2006 Birthdate) Closed
(561)642-5449 Email
This email address is being protected from spambots. You need JavaScript enabled to view it.
Website-AYSO345.com
American Youth Soccer Organization Region 345/Okeeheelee Park
7715 Forest Hill Blvd W Palm Bch, FL 33413
Open Registration . . . Everyone Plays . . . Balanced TeamsPositive Coaching . . . Good Sportsmanship . . .Player Development
Not for Profit Organization #95-6205398
2020 Special Offers Dick's Sporting Goods
WELCOME BACK TO SPORT!
Dick's Sporting Goods is the Official Sporting Supplier of AYSO Region 345. Throughout the year, your commitment and effort help AYSO Region 345 build a successful soccer league. As the official sporting goods retailer, Dick's Sporting Goods wants to recognize your dedication by extending exclusive discount coupons for soccer equipment. 2020 Special Offers/Electonic Coupons