AYSO Okeeheelee Park Team Pictures
Team Pictures will be available for pick up on Saturday, March 13 from 8 am to 1 pm.
AYSO Region 345/Okeeheelee Park
Spring 2021 5 v 5
Okeeheelee is having their annual 5 v 5 Tournament!!
Who: Spring 2021 AYSO Region 345 coaches can make a team made up ONLY of players from their rostered team in 10U to 18U (roster up to 8 players) or if a coach is not participating, PLAYERS CAN PUT THEIR NAMES ON A LIST IN THE SOCCER ACTIVITY BUILDING TO BE PUT ON A TEAM
What: Three short-sided 30 minute fun games plus medal round
Where: Okeeheelee Park
When: April 9 or 10 (dependent on the amount of teams entered)
Why: FUN!! ALL proceeds go to AYSO Region 345 scholarship fund
Cost: $200.00 per team
Come on out and join the fun!
AYSO REGION 345/OKEEHEELEE PARK
REGIÓN AYSO 345 / PARQUE OKEEHEELEE
FALL 2021 SEASON SOCCER REGISTRATION REGISTRO DE FÚTBOL TEMPORADA OTOÑO 2021
Recreational Youth Soccer Boys & Girls Ages 4 to 18 Age as of December 31, 2022
Fútbol juvenil recreativo Niños y niñas de 4 a 18 años Edad al 31 de diciembre de 2022
Early Bird Registration Inscripción anticipada
Saturday, March 20, 2021 Only Sábado 20 de marzo de 2021 únicamente
10:00 am to 2:00 pm
$95.00 per child $95.00 por niña/por nono
(Payable cash or check) (Pago en efectivo o cheque)
Early Registration Registro temprano
March 21 to April 30, 2021 21 de marzo al 30 de abril de 2021
$105.00 per child $105.00 por niña/por nono
Regular Registration Registro regular
Saturday, May 1, 2021 Sábado, 1 de mayo de 2021
10:00 am to 2:00 pm
$115.00 per child $115.00 por niña/por nono
(Payable cash or check) (Pago en efectivo o cheque)
Online Registration Available April 15, 2021 Registro en línea Disponible el 15 de abril de 2021
ayso.bluesombrero.com/Region345
Includes basic uniform, accident insurance and trophy!!
Incluye uniforme básico, seguro de accidentes y trofeo !!
Season begins August 16, 2021 and runs through November 20, 2021 La temporada comienza el 16 de agosto de 2021 y termina el 20 de noviembre de 2021
Email Region
This email address is being protected from spambots. You need JavaScript enabled to view it.
Website-AYSO345.com Phone 561-642-5449
American Youth Soccer Organization Region 345/Okeeheelee Park
7715 Forest Hill Blvd, W Palm Bch, FL 33413
Open Registration . . Everyone Plays . . . Balanced Teams. .Positive Coaching . . Good Sportsmanship . . . Player Development
Not for Profit Organization #95-6205398
Online Registration will be available (starting April 15 due to website updates) at ayso.bluesombrero.com/region345
(if done online prefereed browser is Google Chrome)
AYSO Region 345 Playground
AYSO Region 345 Playground is for children 3 to 4 year olds and uses activities, soccer themes and parent participation is required to develop a child's early fundamental motor skills. This is the foundation of sports success and an active lifestyle. Designed by child development and soccer experts to give your child the AYSO Playground advantage! Sessions are Saturday's only from 9:30 am to 10:15 am starting September 18, 2021 to November 6, 2021. Registration will be held during regular registration at Okeeheelee Park Soccer Activity Building with a cost of $50.00 which includes a tshirt, soccer ball, soccer bag, and trophy at end of season. Or registration can be done online at ayso.bluesombrero.com/region345 For more information, please contact us at This email address is being protected from spambots. You need JavaScript enabled to view it..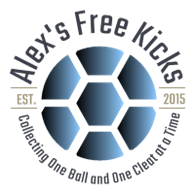 Donating One Ball & Cleat at a Time
At Alex's Free Kicks, our goal is to ensure that every child growing up at least has the opportunity to play sports and find their passion.
AYSO Region 345/Okeeheelee Park is working with Alex's Free Kicks and if you have any extra soccer balls, cleats or other soccer equipment that you are no longer using, please bring in to the AYSO Soccer Activity Building on October 10 (we will take the donations throughout the season). For more information, go to https://alexsfreekicks.com