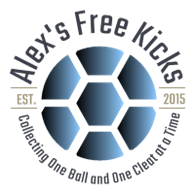 Donating One Ball & Cleat at a Time
About Alex's Free Kicks
At Alex's Free Kicks, our goal is to ensure that every child growing up at least has the opportunity to play sports and find their passion.
AYSO Region 345/Okeeheelee Park is working with Alex's Free Kicks and if you have any extra soccer balls, cleats or other soccer equipment that you are no longer using, please bring in to the AYSO Soccer Activity Building on November 16 (we will take the donations throughout the season). For more information, go to https://alexsfreekicks.com
AYSO Region 345 5 v 5 & 3 v 3 Tournament
A special thank you to all the volunteers and teams that participated in the tournament December 7 & 8, 2019! As an All-Volunteer Organization, it is great to see all the wonderful people helping to make everything run smoothly! From Field Lining-Rolf Born, Steve Castro, Douglas Rodas, Frenchy Hilaire, Goal Moving-Jorge Ocampo, Douglas Rodas, Steve Castro, Field Set up-Nora Huspek, John Rodriguez, Natasha Rodriguez, Mark & Jessica Ostlin, Carlos Miquel, Fred & Michele Mance, Scorekeeping-Wendy Smith, Game & Referee Scheduling, 3 v 3 Overseeing-Mark & Jessica Ostlin, Team Registration-Rose Arsenault, Referees-Ariel Riquelme, Sean Cotter, Irvin Gomez, Anthony & Rick Cerreta, Eduardo Gonzalez, Michael Moise, Douglas Rodas, Nicholas, Matthew, & Soraya Leon, Michelle Puerta, John Solek, Michael Hartley, Raul Castillo, Sebastian Perez, Frenchy Hilaire, Gabby Rodriguez, Olsen Fenelus, Jorge Ocampo, Kenneth Carr, Cezar Caleap, Sebastian Morgan, Ball Shaggers-16U Girl State Team Coach Frenchy Hilaire, 19U Girl State Team Coach Douglas Rodas, Martin Broche, Mickaela Moise, and many more.
AYSO Region 345/Okeeheelee Park 5 v 5 Schedule December 7 & 8, 2019 Results
10U Boy 1st Place Victor Salinas 2nd Place Boris Alvarado-Invicible
12U Boy 1st Place Saul Quintanar-Fortnights 2nd Place Felipe Duitama-Spiders United F.C.
14U Boy 1st Place Wilson Collazos-Orange Strikers 2nd Place Fred Mance-The Fins
19U Boy 1st Place Ariel Riquelme WPB Elite FC Blue 2nd Place Rick Cerreta
AYSO Volunteer Registration & Coach Course Sign Up
AYSO has implemented a new registration system using Blue Sombrero. All volunteers (youth and adult) must go to:
ayso.bluesombrero.com/region345 to register themselves for the 2019-2020 season for background checks to be done.
Service Awards were given out at the AYSO Region 345 Annual Volunteer Party on November 9, 2019. We would like to congratulate and express our deepest gratitude to the following volunteers for their effort and time they have contributed in volunteering at AYSO Region 345 to make our program so outstanding!!
5 Year Award 10 Year Award 15 Year Award
Hector Castiblanco Carlos Avalos Erik Arsenault
Carlos Leon Dan Begley Nora Huspek
Louis Leon Mario Moreno
Carlos Miquel Sabrina Rodriguez
Jenny Rueda
Julio Santana
Dillon Steffen
AYSO REGION 345 2019 OPENING CEREMONIES BANNER WINNERS
We wish to thank all the dedicated volunteers who got all the background things (teams made, fields painted, nets put up, coaches recruited, registration, etc.) done to make it such a wonderful start to our season-Nora Huspek, Douglas Rodas, Kenneth Carr, Melisa & Jim Cummins, Rick Montes, Tasha Carrion, Rachel Forberger, Paul Scala, Rick, Heidi, & Anthony Cerreta, Natasha & John Rodriguez, Mike James, Carlos Avalos, Steve Castro, Frenchie Hilaire, Javier Lasso, Jason Villafane, Mark & Jessica Ostlin, John Solek, Veronica Murphy, Rolf Born, Erik & Jessica Arsenault, Fred, Michelle, Zachary & Randy Mance, Karmron Botelho, and many more! Thanks to our judges , Matilda Casas, AYSO Area I Director, Michael Hartley AYSO Section 14 Director, and Nancy Perez, Retired Palm Beach County Judge for giving of their time to judge our banners for Opening Ceremonies! A huge thank you to Jayden Jones for the singing of the National Anthem!
OVERALL LEAGUE WINNER- 12U Boys Marines, Coach Jorge Ocampo, Sponsor El Bodegon Supermercado
Read more: AYSO Region 345 2019 Opening Ceremonies Banner Winners