AYSO REGION 345 2017 OPENING CEREMONIES BANNER WINNERS
We wish to thank all the dedicated volunteers who got all the background things (teams made, fields painted, nets put up, coaches recruited, registration, etc.) done to make it such a wonderful start to our season expeccially with Hurricane Irma coming for a visit that delayed us: Nora Huspek, Douglas Rodas, Todd Masi, Neal Jain, Kenneth Carr, Hunter Carr, Melisa & Jim Cummins, Tom Vaughan, Paul Picard, Rachel Forberger, Paul Scala, , Rick Cerreta, Hieidi Cerreta, Anthony Cerreta, Natasha Rodriguez, Mike James, Carlos Avalos Sr, Carlos Avalos Jr, Angel Avalos, Alberto Avalos, Rick Montes, Eyas Musallam, , Rachel Martinez, John Rodriguez, Brandon Rodriguez, John Solek, Veronica Murphy, Ingrid Carranza, Amy Poole, Bert Winkler, Claudia Botero and many more! Thanks to our judges , Matilda Casas, AYSO Area I Director, Wendy Smith, AYSO Section 14 Developer, and Nancy Perez, Palm Beach County Judge for giving of their time to judge our banners for Opening Ceremonies!
OVERALL LEAGUE WINNER- 10U Girls #7 Turquoise Turtles-Coach Keisha Vacciana
Read more: AYSO Region 345 2017 Opening Ceremonies Banner Winners
AYSO Region 345 VIP Soccer Program
The VIP program provides a quality soccer experience for children (ages 4-15) with special needs that make it difficult to successfully participate on mainstream sports teams. VIP teams include those that are: blind or visually impaired, have impaired mobility, are mentally or emotionally challenged, autistic or have Down syndrome or Cerebral Palsy.
2017 Special Offers Dick's Sporting Goods
Dick's Sporting Goods is the Official Sporting Supplier of AYSO Region 345. Throughout the year, your commitment and effort help AYSO Region 345 build a successful soccer league. As the official sporting goods retailer, Dick's Sporting Goods wants to recognize your dedication by extending exclusive discount coupons for soccer equipment. 2017 Special Offers/Electonic Coupons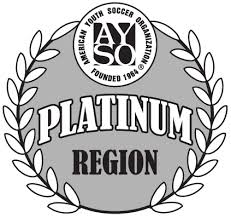 AYSO Region 345 Receives AYSO Platinum for Exclellence
Okeeheelee Park Region 345 has been honored with the AYSO Platinum Award for our Fall/Spring 2015-2016 Season. AYSO Region 345 has participated in the AYSO Regional Assessment Program since 1994 and this is the 17th time that Region 345 has won this Award for Excellence! Platinum Regions represent the best of the best that AYSO has to offer. These Regions model AYSO's philosophies and commitment to providing the best family friendly youth soccer experiences for all players and parent volunteers throughout their immediate communities and beyond. They nurture the generous spirit of their participants and devote extra effort to providing assistance to many worthy charitable causes.
Congratulations to every volunteer who tirelessly works to make Okeeheelee Park Region 345 a fantastic place for our children to play soccer!
Attached are Important Changes to the Laws of the Game summarized starting Fall 2016.