AYSO Region 345 Fall 2015 Team Managers Meetings
Boys teams Returning Team Managers will attend a meeting on Tuesday, September 1, 2015 from 6:30 pm to 8:00 pm and Girls teams Returning Team Managers will attend a meeting on Wednesday, September 2, 2015 from 6:30 pm to 8:00 pm. Team Managers will receive their team picture packets, uniforms, handbooks, water bottles, buy banner supplies only if a Volunteer form is turned out completed and a copy of the Concussion Awarenes Certificate is handed in.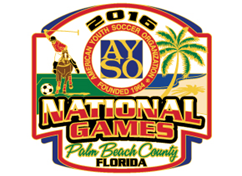 AYSO Region 345/Okeeheelee Park Awarded U14 Boys & U16 Girls in Lottery for 2016 AYSO National Game
2016 AYSO Region 345 National Games Tryouts
The 2016 AYSO National Games will be held in Wellington, Florida July 5 to July 10, 2016. These tryouts are for all AYSO Region 345 U14 Boy and U16 Girl players who have are registered for the AYSO Region 345 Fall 2015 Season and will play at least (6) six games in the AYSO Region 345 Fall 2015 Season. Players will be selected at the following open tryouts for the 2016 AYSO Region 345 U14 Boys and U16 Girls National Games Team. Players should come at least (30) thirty minutes prior to start time to fill out paperwork and to be prepared to start on time.
Friday, September 4, 2015 6:00 pm to 7:30 pm
AYSO Region 345 Playground
AYSO Region 345 Playground is for children 3 to 4 year olds and uses activities, soccer themes and parent participation is required to develop a child's early fundamental motor skills. This is the foundation of sports success and an active lifestyle. Designed by child development and soccer experts to give your child the AYSO Playground advantage! Sessions will be Saturday mornings starting September 12 and runs to October 31, 2015. For more information , please email us at This email address is being protected from spambots. You need JavaScript enabled to view it.
Registration: September 1, 2, or 3 from 6:30 pm to 7:30 pm Cost: $50.00 (includes tshirt and trophy)
Chevrolet is hosting two FREE youth soccer instructional clinics in your area for boys and girls ages 6-14*. Instruction will be provided by Soccer.com staff!
Players will break out into age groups and rotate through stations to learn the essentials of dribbling, passing, shooting and more! *Special Needs participants of all ages are welcome to attend.
Spots are available on a first come, first serve basis – register NOW to secure your spot!
Read more: Chevrolet Hosting FREE Youth Soccer Instructional Clinic
AYSO Region 345/Okeeheelee Park Fall Referee Clinics
156 Teams which means 78 games every Saturday requiring 78 VOLUNTEER referees each week.
Free training will be given to all Referees to Referee with Water and Lunch Provided on Game Days
Basic Certification for U10 & U12 Games
Date: September 13 Time: 9:00 to 3:00 pm
Breakfast & Lunch Provided
Youth Referee Clinic for U6 & U8 Games
Friday, September 18, 2015
6:00 pm-8:30 pm
Fast, easy, convenient way to get Community Service Hours.
Clinics are held at Okeeheelee Soccer Building free of cost.
Contact Jamie Estok 561-603-7624

This email address is being protected from spambots. You need JavaScript enabled to view it.

for Basic and Intermediate
Natasha Rodriguez U6 & U8 561-389-9589

This email address is being protected from spambots. You need JavaScript enabled to view it.