AYSO REGION 345/OKEEHEELEE PARK FALL 2015 COACH CLINICS
We Need 160 Volunteer Coaches & 160 Volunteer Assistant Coaches for the Spring 2015 Season!!
The Season starts August 10, 2015 and runs to November 21, 2015.
Coach requirement: Attend a coach clinic, devote (2) days a week for practices for (1) one hour, (1) one game per week on Saturday starting September 12, 2015
U10 and U12 Coach Clinic-Saturday, August 8 8:30 am to 4:00 pm
U6 Coach Clinic-Saturday, August 1 8 am to 12 pm or Saturday, August 16 1 pm to 5 pm
U8 Coach Clinic-Saturday, August 1 1 pm to 5 pm or Saturday, August 16 8 am to 12 pm
AYSO Region 345 Playground
AYSO Region 345 Playground is for children 3 to 4 year olds and uses activities, soccer themes and parent participation is required to develop a child's early fundamental motor skills. This is the foundation of sports success and an active lifestyle. Designed by child development and soccer experts to give your child the AYSO Playground advantage! Sessions will be Saturday mornings starting September 12 and runs to October 31, 2015. For more information , please email us at This email address is being protected from spambots. You need JavaScript enabled to view it.
Registration: Saturday, August 29 9 am to 11 am or September 1, 2, or 3 from 6:30 pm to 7:30 pm
Cost: $50.00 (includes tshirt and trophy)
Intro to Soccer for New AYSO Region 345 Players Ages 4 to 12
If you are between the ages of 4 and 12 and this is your first time playing soccer, you are invited to our "Intro to Soccer." We will watch a video, show you some of the things you will need to know to get started and feel comfortable and answer any questions you may have. All parents are asked to stay and find out what AYSO is about, what you can do to help out, and how to make this a wonderful experience for you and your child. There are dates and times to choose from and you only need to attend one. If you cannot make it at the time your age group is scheduled, please come the other time.
U6 PLAYER (4-5 YEARS OLD)
August 2nd 1:00 pm to 2:30 pm
U8 AND U10 PLAYERS (6-9 YEARS OLD)
August 2nd 3:30 pm to 5:00 pm
Please bring your ball and be wearing your cleats and shinguards.
WE HOPE TO SEE YOU THERE!!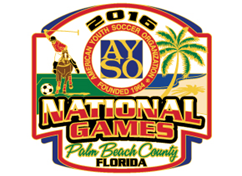 AYSO Region 345/Okeeheelee Park Awarded U14 Boys & U16 Girls in Lottery for 2016 AYSO National Game
2016 AYSO Region 345 National Games Tryouts
The 2016 AYSO National Games will be held in Wellington, Florida July 5 to July 10, 2016. These tryouts are for all AYSO Region 345 U14 Boy and U16 Girl players who have are registered for the AYSO Region 345 Fall 2015 Season and will play at least (6) six games in the AYSO Region 345 Fall 2015 Season. Players will be selected at the following open tryouts for the 2016 AYSO Region 345 U14 Boys and U16 Girls National Games Team. Players should come at least (30) thirty minutes prior to start time to fill out paperwork and to be prepared to start on time.
Saturday, August 29, 2015 9:00 am to 10:30 am
Sunday, August 30, 2015 2:30 pm to 4:00 pm
Friday, September 4, 2015 6:00 pm to 7:30 pm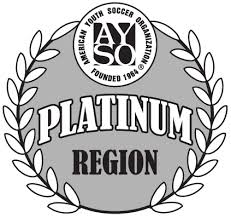 AYSO Region 345 Receives AYSO Platinum for Exclellence & Membership in the President's Circle
Okeeheelee Park Region 345 has been honored with the AYSO Platinum Award for our Fall/Spring 2014-2015 Season. AYSO Region 345 has participated in the AYSO Regional Assessment Program since 1994 and this is the 15th time that Region 345 has won this Award for Excellence! Platinum Regions represent the best of the best that AYSO has to offer. These Regions model AYSO's philosophies and commitment to providing the best family friendly youth soccer experiences for all players and parent volunteers throughout their immediate communities and beyond. They nurture the generous spirit of their participants and devote extra effort to providing assistance to many worthy charitable causes.
The President's Circle recognizes and salutes those AYSO Regions that have not only met, but exceeded the AYSO commitment of Bringing More Soccer to More Kids™. It is open to all AYSO Regions – small, large, rural, urban, suburban, affluent and of modest means – that through the efforts of their volunteer leadership have delivered the AYSO experience to a greater number of children and families.
The President's Circle honors those Regions that have grown their player registration in two consecutive years (through April 30, 2014) with a minimum of 25 percent or 75 players in cumulative growth. While every AYSO Region faces its own unique opportunities and challenges, our vision is the same: to provide world class youth soccer programs that enrich children's lives. The President's Circle honors those AYSO Regions that are delivering on that vision in special ways.
Congratulations to every volunteer who tirelessly works to make Okeeheelee Park Region 345 a fantastic place for our children to play soccer!